17 Nov 2021
Why Mass Turnover is Your Responsibility, Even During a Pandemic
Subscribe to our newsletter. Enter your details below.
While organizations may not have been prepared for the past year's wave of C-level resignations, the data indicated that increased turnover was well underway before the pandemic.
Looking at the start dates and tenures of the current sitting Fortune 500 C-Suite, while 2016 and 2017 saw executive turnover just under 10%, that figure more than doubled to 20% by 2019. Estimated turnover in 2020 and 2021 potentially represents a plateau, likely due to pandemic instability, at a rate of 22% and 23% respectively. However, based on these trends, we believe turnover may well continue to proceed at these elevated rates or rise, representing a persistent shorter tenure cycle across the board, even after the pandemic fades.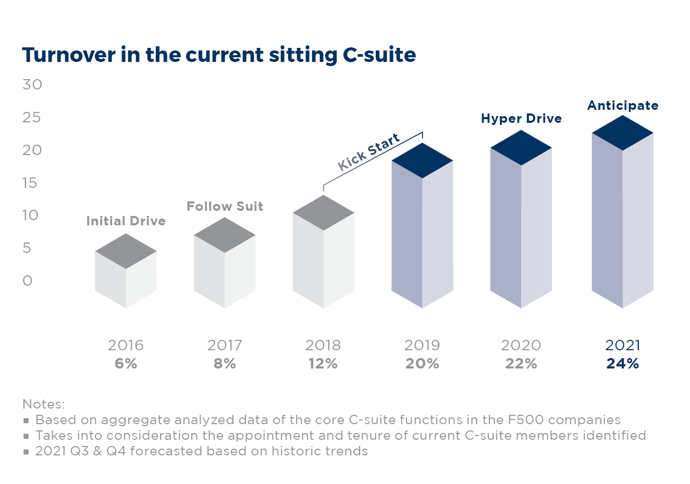 The fact that most of these career transitions were already underway pre-pandemic, and may continue, points back to the bigger questions you should be asking about your organization's talent strategy, and your ability to plan for what's next.
In the following short articles, we offer strategy-planning advice and data that will help you prepare for what the new year may throw your way in 2022.