17 Jun 2021
The Race for Innovation - An interview with the President and CRO at Salesforce: Part Two
Subscribe to our newsletter. Enter your details below.
We speak to Gavin Patterson, President and Chief Revenue Officer at Salesforce and the former CEO of BT Group PLC, on climate change, innovation and regulation.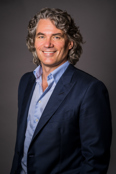 Michael Drew, Partner and Global Head of Odgers Berndtson Executive Search's Global Technology Practice continues the
At home interview series with Gavin Patterson, President and Chief Revenue Officer at Salesforce.
Watch the entire series: CEOs At Home 

Mike: Technology is perhaps both part of the problem and also part of the solution to climate change. What is Salesforce doing to reduce its impact, and helping your customers do the same?
Gavin Patterson: Well, I think climate change is the single biggest challenge the world faces, without question. The pandemic in many ways has brought it into sharper focus, where the urgency has become more acute. Salesforce, as you know, is a purpose-driven company. It can be the catalyst to improve society, improve the environment, to make sure we live in a more equitable world. That was built into the DNA of the company when Marc and Parker founded it.
For customers, we are creating products and services that help them deliver their contribution and take on a leading role in society. Because to your point,
I think on balance, digital investment is a way of accelerating to a more sustainable world.
One example of that is Sustainability Cloud, which is a way that organisations can track their impact on the environment, their carbon footprint, and ensure that they're tracking their progress to the goals that they're setting themselves. This is particularly focused around the United Nation's Sustainable Development Goals, which is the standard many companies are working to.
Mike: Absolutely. Moving on slightly, what has Salesforce done to ensure nimbleness in innovation remains a key part of your DNA?
Gavin: I continue to be hugely impressed in the way that a company that is 22 years old is still managing to remain right at the forefront of technology innovation. We're growing 23% year-on-year and have done for 22 years. How does Salesforce do it?
Culture is absolutely key; ensuring that there's a beginner's mindset, a challenger mindset in everything the company does.
Secondly, it's a very tight leadership team. It's a functionally organised business, which means we can move in a very agile manner. If you look at the way we were able to pivot in the height of the challenges of the pandemic last summer, creating things like work.com, which was a cloud that helps navigate the return to work for our customers. We were able to spin that up  in 10 days, which is one of the benefits of it being a functionally organised business with deep levels of trust between peers. I would also say it is because the approach to innovation is both internal and external.
Internally, R&D efforts are really focused at being the best at each cloud, in each market we operate in, be that sales, service, commerce, marketing, analytics, collaboration, if and when the Slack deal closes. Externally, Salesforce Ventures is an extraordinary story. One of the real parts of the secret sauce in the Salesforce model is that it is an open architecture that allows many other companies to exist within the ecosystem.
There are about 5,000 different applications and organisations that have built businesses around the Salesforce model. That is very powerful and showcases the benefits of innovation, incentivizes innovation around your business. It's great for customers, but it also creates a real competitive advantage. Salesforce Ventures plays a particular role in this, often taking stakes in some of these companies that have grown up around the platform. In some cases, we go on to acquire that company, Vlocity being an example.
In other situations, we've taken a stake and then the company's IPO-ed, and we sold the stake and made a return on that. Snowflake is an example of that, Zoom and KeyNode is an example of that, which is a great way of fostering innovation, but then creating cash flow that can be invested back into the business and it's I think, a remarkable model.
Mike: Yes, totally agree. Being CRO at Salesforce, and previously CEO at BT, I'm curious to understand your view, and are there differences to the way that UK businesses and US businesses approach innovation? Are there vast differences, or are they very similar?
Gavin: I don't think it's a geographic difference, per se. I know there is a line of thinking in the media that suggests that the US is better at innovating.
I don't personally buy into that, I think it's much more to do with the way you set up the culture, the mindset, the business, how the leader is focusing resources. There are fantastic innovators in the UK, in the same way there are in the US. It's more to do with how the leadership team works and how the culture is embodied.
Mike: Absolutely. My final question is, do you think regulation is needed and what is perhaps the impact, positives and negatives, of having more regulation in the tech sector?
Gavin: In general, I'm not a fan of regulation but if the market isn't working efficiently and isn't working to the best interests of customers, that being creating more innovation, new products and services, and better value for money, then regulation is required. It's difficult making regulation move at the speed that the market does. Inevitably it is out of date as soon as it's inked because markets move very, very quickly. I can see that there is an argument in the consumer technology space, the consumer internet space, in particular, says that more regulation might be appropriate. That's not lost on me and not all regulation necessarily has to be a drag on the business, fundamentally.
I personally think the GDPR regulation as much as it was something that many felt was unjustified or frustrating at the time has proven to be a good piece of regulation that is going to be in the best interest of customers. It is already demonstrating a better discipline in companies as they have to put the right processes and systems in place to meet that regulation.
Mike: Gavin, as ever your insights have been invaluable. Thank you on behalf of everyone at Odgers Berndtson for giving up your time to answer some of these questions. I hope that Q2 is as good as Q1.
Gavin: Thanks very much.