03 Mar 2022
Creating Pathways to Leadership for People of Colour
Subscribe to our newsletter. Enter your details below.
It is well-established that increasing diversity in an organization has major business benefits. And most organizations, even very traditional ones, are attempting to do so. But, despite these well-meaning efforts, we are still not seeing an upward or sustainable trend in the number of diverse leaders in boardrooms and corner offices. Why?  
We are not retaining leaders from underrepresented demographics 
Not only is the percentage of white leaders in the C-suite still substantially higher than the percentage of diverse leaders at that level, our data, sourced from Odgers Berndtson US, reveals that tenures are shorter among diverse leaders, potentially indicating that companies are not effectively retaining these leaders.  
Organizations have been focused on recruiting diverse talent, but they can not lose sight of the importance of retaining those individuals by building retention strategies into the workplace.  
We are not creating natural pathways to leadership for diverse talent 
Our data shows that diverse candidates who do make it to the C-suite are typically in functional leadership roles, like Chief Human Resources Officer, Chief Legal Officer or General Counsel, which do not as effectively prepare candidates for a CEO role.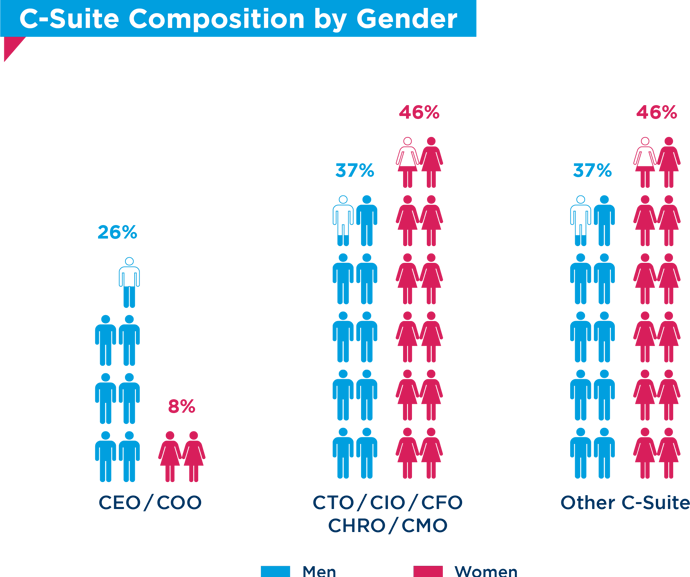 Meanwhile, our data indicates that the more diversity found at the highest levels of an organization, the more diverse the entire organization is likely to be. 

 


It is in all of our best interest, culturally and financially, to make sure we have much more diversity in executive leadership.
So how do we break the constraints that are holding us back, open bottlenecks, and form sustainable pathways for diverse talent to lead? Here are several ways you can create pathways to leadership for people of color:     
Codify career paths and leadership development for diverse employees
If we want more diverse executive-level talent, we must create paths for diverse employees to get there. Develop career path roadmaps for your diverse talent (and all talent), provide talent equal opportunities to advance, and ensure they are supported by an executive sponsor(s) accountable for their leadership development.   
Broaden your leadership pipeline
The same tactics produce the same old results, so be open-minded about viable paths to leadership. For instance, sales leaders who have grown markets and understand customers should be considered for P&L leadership roles and eventually, CEO jobs.  Companies are increasingly hiring diverse sales talent to more effectively engage with and grow diverse customer bases. There is an opportunity to provide successful sales leaders with broader professional experiences, mentorship, training, and education to position them for operating leadership roles, including COO and CEO roles.   
Consider leaders' DEI track record in past roles
To strengthen DEI culture, organizations are starting to look for leaders with track records of involvement in and success building and developing diverse teams. Successfully creating increased diversity, as well as career pathways and opportunities for diverse talent, should be considered a core competency that we, and our clients, assess in the hiring process.    
Retain your diverse internal pipeline
Making your culture inclusive and welcoming for diverse talent is what will make or break your diversity efforts long-term.
Consider establishing Employee Resource Groups (ERGs), or affinity groups, for different identities within the organization. Ensure policies and procedures – from onboarding to performance evaluations to career pathways are inclusive and fair. Identify internal champions (staff and board) to help drive progress and advocate for change.  
Today's diverse hires can be tomorrow's leaders, but only if you can retain them and set them up for long-term success. Odgers Berndtson regularly advises organizations on increasing diversity at the senior leadership level.