31 May 2023
AI and Reinvesting Efficiency
Subscribe to our newsletter. Enter your details below.
AI is a major game-changer for business. In our latest OBSERVE article, we explore how CEOs should invest the efficiencies achieved with AI to further develop their organisations.
At the height of its power, the photography company Kodak employed more than 140,000 people and was worth $28 billion. When Facebook bought Instagram for US$1 billion in cash and stock in 2012, it employed only thirteen people. This is the differentiation of a platform business. Once established and once they have dominated competitors by becoming the platform of choice (by establishing a network effect), digital platforms benefit from automation-driven models. This affords them growth through a significantly smaller employee count compared to a traditional business like the example of Kodak.
Platform businesses like Facebook lean on algorithms, AI-powered content curation, and targeted advertising to connect with billions of users worldwide. This automated approach significantly reduced the need for a large employee base, as the platform can efficiently distribute digital content, take bookings and deliver advertisements and commercial content to a global audience at scale.
As platform businesses have released swathes of employees in recent times, their valuation has increased. Less employees and more revenue per employee is a coveted goal for many businesses, but is very apparent when it comes to technology and platform businesses. Have a look at the following chart, courtesy of Crunchbase to illustrate the phenomenon.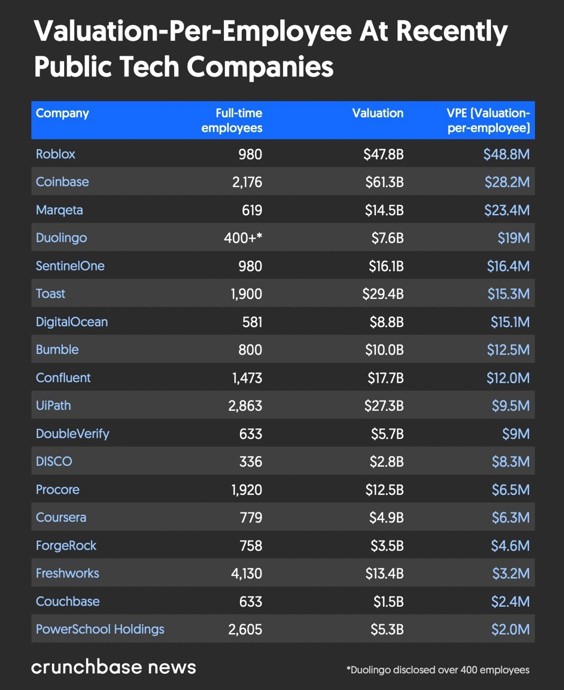 Post the correction to pandemic hiring sprees, this is a trend that is only increasing. It is a trend that is accelerating now in tandem with the increasing adoption rate of AI technology. Earlier this year, Reuters reported that ChatGPT, the popular chatbot from OpenAI, reached an estimated 100 million active monthly users a mere two months from launch. This made it the "fastest-growing consumer application in history," according to a UBS investment bank research note. By comparison, TikTok took nine months to reach 100 million monthly users, and Instagram about 2.5 years! According to author and Columbia Business School Professor, Rita McGrath, "Rates of new product introduction and adoption are speeding up… across the board."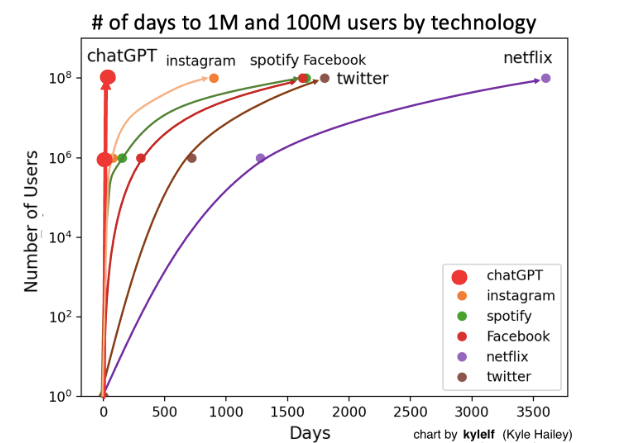 (Image source: Kyle Hailey)
The title of Bill Gate's book "Business at the Speed of Light", is no longer hyperbole. It is upon us. In this world, we don't have time to wait until the path forward is clear before we act. We are on the precipice of a technological revolution akin to the mass introduction of the Internet or the iPhone.
So while ChatGPT has stolen the mindshare it appears Google's ability to respond almost immediately with potentially a better offering connecting its AI (Bard) to their live search products, offers a window into the rate of change and level of competition we are about to experience.
Efficiency innovation enables companies to squeeze as much as possible from existing assets and business models.
Commentators speculate that platform businesses can now grow 30% annually without increasing headcount. However,  while efficiency innovation maximises profit, wise CEO's reallocate that profit for future investments. That profit should be seeds for future growth, but that is not always the case. According to McKinsey research, companies are more likely to succeed when they re-allocate capital expenditures feeding the units that are likely to achieve break out success, while starving those that are unlikely to grow sharply. However, in many cases, the profits from efficiency innovation are not reinvested in the future.
Find out Why Generative AI Regulation is going to be every CEO's friend here.
Taking that platform trend what does it mean for the individual in a world of uncertainty due to the impact of artificial intelligence and automation on leaders. Each of us should become more efficient thanks to artificial intelligence. Microsoft's Copilot for example will create our PowerPoint presentations, write our speeches and even create our to-do lists from our emails. If the result is that we are more productive, then we should also look to reallocate that "time profit" from the efficiency opportunity into our personal growth. So while AI can optimize efficiency, CEO's can allocate the "time profit" to emphasise the irreplaceable human qualities of emotional intelligence, creativity, and critical thinking.
By striking a balance between AI-driven processes and unique human attributes, CEO's can assemble leadership teams with both technical prowess and adaptability to thrive in an ever-changing professional landscape.
As Jack Welch, former CEO of GE, once said, "The only sustainable competitive advantage is to learn faster than your competition and to be able to act on what you have learned."
Read more: How Artificial Intelligence is impacting these 5 key C-suite positions
At Odgers Berndtson, we search for a growth mindset with the capacity for life-long learning in our candidates. Yes, we place the ideal candidate for your needs today, but we also look for the candidate who will develop with your business into the future.
To learn more about AI and developing your own organisation, reach out to your local Odgers Berndtson Technology contact here, or alternatively get in touch with us here. 

Stay up to date: Sign up here for our global newsletter OBSERVE, and receive the latest news in leadership and top talent, industry insights, and events directly to your inbox.