12 Apr 2021
Ladies, Let's Choose to Chat: How to Leverage Recruiters to Advance Your Career
Subscribe to our newsletter. Enter your details below.
Women are losing out on some of the top jobs in the nation.
In the first two months of 2021, our executive recruiting team noticed men were responding 1.5 to 3 times more frequently than women for some C-suite and VP level executive searches. 
For a recent marquee CIO search, 33% of men responded, while only 22% of women did. A VP Sales search had men 3x more likely to respond than women. Similarly, a VP Finance search yielded 2.5x greater response rates of men than women.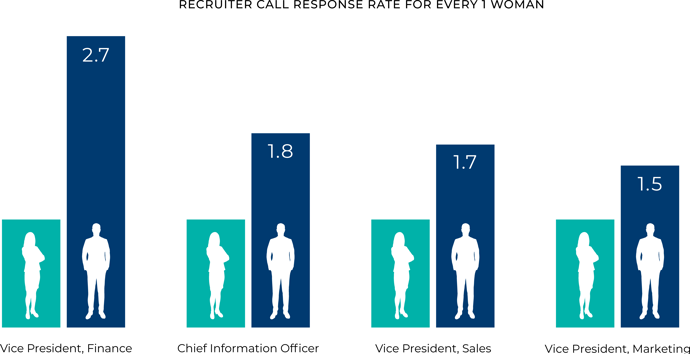 So, we asked ourselves why aren't women responding to recruiter outreach and what can we do in the process to attract response from more women? Is it because maybe:
Women are feeling unduly impacted by Covid and overstretched, especially those with children who are being home schooled, and couldn't even contemplate a change?
We were reaching too far beyond the job specification in our attempts to engage more women, or perhaps the job spec wasn't appealing?
Women, with added demands in life, are accepting of the level they are currently at in their career?
Women don't perceive they have the qualifications for a bigger role?
Women and diversity candidates are getting a greater volume of recruiter calls?
The industry or job function seemed masculine? There is a lot of research about performance bias of women in what are perceived to be "male" roles and maybe this bias applies to women seeking those roles as well. 
Why is it important to return a reputable recruiter outreach? You hear about opportunities, get yourself into consideration for a great role, and develop a recruiter relationship.
Let me share an example of how this works: When I first became an executive recruiter at a top executive search firm, I saw that a fellow female engineering classmate was a VP Engineering candidate on a software company search. I considered myself Director level so was surprised and elated to see that she was already a VP Engineering. I looked at our database and saw that our search firm reached out to her on every search! For some, she became a candidate and for others, she would give us several people to reach out to. She had a good relationship with our search firm, so she was presented with every opportunity.
Experience has also shown me that your boss is already talking to us because the more senior an executive, the more likely they will return a recruiter call.
So for women who may be interested in advancing their careers, the first step is to return that recruiter call and simply have a chat about the opportunity. At the very least, this starts a relationship with a recruiter so you will be ready for when you do want to make a move. At best, you may hear something new and find yourself a perfect role. 
So, ladies we hope you will choose to chat with an executive recruiter. Learn about potential career opportunities. Develop relationships with recruiters. Share women in your network if the position isn't right for you.
Choose to challenge this inequity, help other women, and advance your own career.