08 Apr 2021
Mazda's case for leadership change
Subscribe to our newsletter. Enter your details below.
In 2015, Mazda Canada Inc. embarked on an ambitious transformation journey. The CEO at the time was a Japanese-born executive whose career took him from a marketing trainee in Jacksonville, Florida to the head of Mazda's global marketing division. As the new CEO for Mazda Canada, he set out to develop a growth strategy for a market that was not performing as consistently as other countries in the Mazda universe, such as Australia and the US.
Working with the Disney Institute, Mazda developed a common purpose to anchor its customer experience strategy. Underpinning this philosophy is the notion that "it's OK to be off task, as long as you are on purpose." 
This common purpose became the driver for behavior change across the organization: "We create exhilaration by providing the finest automotive experiences that ignite passion in the people we serve." 
Mazda's business challenges had as much to do with changing an old mindset and culture as it did with competing against Detroit's Big Three and other car manufacturers from Japan, South Korea and Germany.
These included:
A growth strategy that was not as compelling as it could be
Inconsistent sales performance across Mazda's retail network
Below industry average employee engagement levels
Turnaround initiatives that quickly faded — what some executives referred to as a "launch and leave" mentality
Determined to avoid any further disappointments, the CEO and the senior team settled on an "inside out" focus for moving Mazda forward. This meant that the company's leaders needed to change themselves and lead by example before presenting dealers and employees with another strategic framework for driving growth.
The senior team placed its first major bet on a partnership with the Disney Institute to develop a customer experience framework based on Disney's legendary customer service standards. A working group of Mazda leaders and employees, facilitated by Disney Institute staff, designed a customer experience toolkit that was rolled out to all dealers and employees across Canada. This created significant momentum to move Mazda's culture to a customer-first approach.
"If we want to become a different company, we need to be bold, lead from the front and be visible leaders with our employees and retail partners." Dave Klan, President and CEO
Enter creative execution
The work with the Disney Institute resonated well with the leadership team and Mazda's dealer network — but a key piece was still missing. "We felt like our strategy was unique enough in terms of the customer experience," explains Brian McDougall, Senior Director, People and Culture at Mazda Canada. "But if we were going to push ourselves beyond our comfort zone, we realized we needed a new way to grow our leadership." This key insight led McDougall to engage with Odgers Berndtson's Leadership Advisory Practice and anchor Mazda's leadership transformation journey around the Creative Execution formula. Based on leadership practices of companies such as Four Seasons, Toyota and Google, the formula struck McDougall as the perfect vehicle to enable the leadership team to rethink its own ability to lead change and create a culture that would enable employees and dealers to embrace a customer first business approach.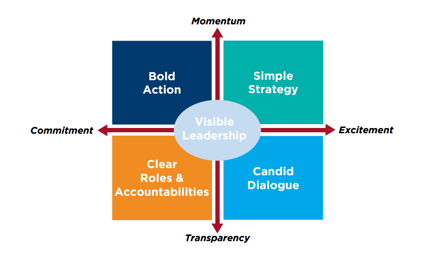 Minding the gaps
To kick-start the leadership journey, the organization's senior managers, directors and senior leaders completed the Creative Execution Scan, an online survey designed to pinpoint any missing links in Mazda's leadership practices. The results pointed to three key gaps:
Bold Action: The Scan revealed that the leadership team did not take bold enough action to turn its strategy into reality. Employees wanted to see things happen more quickly and were looking for concrete evidence that senior leaders were willing to let go of previous management practices.
Candid Dialogue: A key feature of the Creative Execution Model is a culture where constructive and open dialogue is modeled by all leaders. The Scan showed that Mazda was lagging in that dimension, which would slow down the team's ability to make decisions and drive meaningful change.
Clear Roles and Accountabilities: Another key element revealed by the Scan was that leaders didn't fully understand who was accountable for the success of the customer experience principles and how its head office and dealer network were supposed to interact. This needed to be fixed if Mazda's roll out plan was going to succeed.
Coaching the senior team to lead change
Once the organization decided to focus its energies on the three critical dimensions of Creative Execution, Odgers Berndtson mobilized a team of partners and coaches to help Mazda's leaders begin their own transformation. We worked from a team coaching perspective with individual leaders. Each senior leader received a customized assessment of their strengths and competencies — how they show up, to others, every day. They also received feedback on the potential negative behaviors that could derail their ability to work together effectively and sustain change.
Each senior leader worked with a coach, created a development plan and engaged in a sustained coaching relationship. This unique environment gave each executive the space and privacy to work on areas that were identified in the assessment as well as the Creative Execution Model. "Leaders were free to try new behaviors and fail at new things," McDougall explains. "The coaching allowed individuals to free themselves of their self-preconceptions and adjust their behaviors." The leadership journey was perhaps more impactful at the team level. "Creative Execution gave us the path to become a better team and accept new concepts that we would never have contemplated," adds McDougall. "It created a foundation for success as a collective and gave everyone an opportunity to cross the bridge and make change happen together." This leadership alignment among the top leaders was essential as the team began to live the new values and behaviors.
"The coaching sessions were invaluable for supporting deep understanding of my behavioral tendencies. The ability to talk through thoughts and feelings around our change initiative, recognize my negative predispositions in response to stressful situations and choose a more appropriate response was foundational in my personal change journey." Mike Collinson, Senior Director, Brand, Customer Experience and IT, Mazda Canada Inc.
Outcomes and lessons learned
Mazda Canada's journey is ongoing, but the results of the Creative Execution Scan improved measurably after two years of helping the senior leadership team execute in greater unison. The two key markers that had dogged the leadership team's efforts in its first year — the lack of bold action and candid dialogue — moved from the average to the solid category. And to the delight of the senior team, the word "silos" did not appear in the open-ended comments of the 2020 employee engagement survey, a stunning turnaround in the company's culture.
Other notable metrics that were achieved 
Employee Engagement: Mazda Canada's annual employee engagement scores increased from 77% to 87% over four years. An important sub-category, effective leadership and management, jumped to 87% — well above the global Mazda Group average. Brand engagement from all employees stands at a remarkable 95%.
Dealer Satisfaction: Mazda Canada earned the Highest Overall Satisfaction Award and the Most Effective Dealer Communications Award two years in a row (2019 and 2020) from the Canadian Automobile Dealers Association (CADA) for original equipment manufacturers (OEMs) with more than 100 outlets.
Strategy Alignment: Even though Mazda Canada got rid of its pay-for-performance model, employees gave an 85% average rating on its ability to align people's goals to strategy and hold people accountable.
Sales and Service: Mazda's Overall Satisfaction Score (OSAT) for sales rose from 72% to 84% over a five-year period. The OSAT score for service rose from 60% to 76% over the same period. These results are clear indicators of the leadership team's success in executing Mazda's customer experience strategy.
The business results are rewarding, but so is the human impact of providing positive leadership — especially in times of global disruption. "We now recognize that leadership can play a huge role in terms of taking unnecessary stress out of people's lives," says McDougall. "Good leadership can go a long way to help alleviate the kind of stress and anxiety people are feeling."
Download a PDF of this article here.
Learn more about systemic team coaching
If you would like to learn more about how Systemic Team Coaching (STC) can help your leadership improve their collective team performance, watch our recent webinar: Why Your Team Needs a Coach. STC is gaining ground as a powerful and effective process for creating high value teams who can work together across functions, effectively manage stakeholder expectations and work through systemic conflict. It is one of the most critical investments a company can make to grow and compete. To learn more about our STC approach, visit our information page.